Silent Night Bloody Night (1972)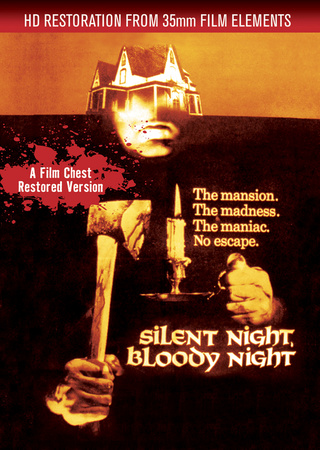 Before I get sass about talking about a Christmas movie in April, let me preface this by saying that Christmas was merely used as a backdrop to a very dark murder mystery. This story easily could've been plucked from this time on the calendar and planted somewhere else, and it would've worked just as well. Aside from the dark, snowy setting and the occasional Christmas tree or ornamental lights on the wall, Christmas has no bearing on this story. In truth, I wasn't really going to talk much about this one, mostly because I don't think I have much of an audience who enjoys these obscure 70s films quite the same way that I do.
At least not on this forum. Have you ever seen it, Shred? Tyler? I know you guys like 80s stuff, but I don't hear much about 70s stuff. Still, I do know that you guys enjoy slasher flicks and this one is as proto-slasher as they come so maybe you guys could still find value in a review of this. I want to record my thoughts anyway, so here they are.
It's Christmas Eve in a weird, remote 70s town and some unknown assailant is butchering people who dare venture into this old weird, remote house. The movie originally follows a lawyer and his lover there at the house on business, until it pulls a
Psycho
and kills them off in a no-doubt brutal death scene for its time. Then, the action cuts to a mysterious man (possible killer? maybe....) who shows up in town and immediately makes acquaintance with our attractive heroine, who serves as our investigative final girl and grown daughter of the town sheriff. More murders ensure, until everyone eventually makes their way to the house of doom and the big reveal occurs, followed by the final showdown.
I think this movie was doomed to the public-domain shelf for much of its lifetime, so the version I first saw it in was absolutely dreadful. Though I wasn't the biggest fan of it upon first watching it, I did remember that it was a film with a lot of character and an interesting setting, and the restored DVD sat on Amazon for a mere $5.00 bucks (very cheap compared to most restored copies) so I couldn't pass it up the chance to give this one a second chance. Mostly because it felt wrong to dislike this one not because of the story, but because of how bad it looked. It just didn't seem fair.
And, like I said, it was one of the first slasher films ever. You can't take that away from it. It barely came before
The Texas Chain Saw Massacre
and
Black Christmas
, both often credited for inventing the genre that would later be popularized by films like
Halloween
and
Friday the 13th
. However,
Silent Night Bloody Night
like those other early 70s slashers didn't emphasize on gore, but rather atmosphere and the raging sense of doom associated with its setting. The occasional townsfolk who got killed off wasn't the focus of the story, but just part of the overall mystery that was unfolding.
The problem with this one, unfortunately, is how slow it is. It's only like a 85-minute film, but it's slow as hell. Aside from the lawyer and his lover (wife? girlfriend? mistress? I can't remember) getting cut while doing the nasty, the other death scenes were no where near as good. There's a lot of extra character scenes added that felt like filler, easily cut like fat from ham and the story still wouldn't have felt incomplete. Though our final girl wasn't quite as helpless as her counterparts in films like
Psycho
(sorry Lila) or
Torso
, her final confrontation with the killer was no where near as memorable as Sally Hardesty or Jess Bradford's in the aforementioned seminal slashers that followed. And the twist ending, though interesting, was revealed in such a lame, too-long exposition scene which zaps it of any impact or excitement. Not to mention that
Don't Look in the Basement
which came later revealed a similar twist so much better.
I've already let this go on for a bit too long for a film I'm pretty confident no one here has ever seen (or ever will), but it's interesting going back in time and seeing one of the roots of one of my favorite subgenres of horror. I had originally rated this one at being 5/10 and while the restoration on the affordable FilmChest DVD was a revelation, the movie still was a bit too boring for me to even give it a generous 6/10. So, I kept my rating the same.
In closing, I hear that there is a sequel out now. Might be checking it out soon... though I've also been meaning to check out the sequel to
Don't Look in the Basement
as well and that's going on like two years now. Long watch list and all, you know how it goes.