This list appeared on my MSN front page, so I thought of a new thread idea. I'll go through the list and give my brief ramblings on each listing. I already I see a picture of Kelly Brook dunked in with the CGI monster-piranhas and I already have my doubts...
LINK
:
http://www.msn.com/en-us/movies/gallery/50-worst-horror-films-of-all-time/ss-BBHSTlH?li=BBnb7Kz&ocid=UE01DHP
50.
Skinwalkers
(2006) - Oddly enough, I actually have this movie in my home from Netflix DVD. I've been sitting it on for like a week, which isn't good for my plan, but I've been watching stuff that I've put off for longer. It's PG-13 horror, but it also has Jason Behr who I think plays a bad boy...? Hmmm... stay tuned.
49.
Anacondas: The Hunt for the Blood Orchid
(2004) - Okay, I have to say: I absolutely LOVE this one and it's perhaps one of my top guilty pleasures EVER. I might even love it more than the J-Lo original. Yep, I said it. I caught it on ScyFy a few years back. Something tells me that the list creators haven't seen the David Hasselhoff sequel, but then again, neither did I (for good reason thanks to YouTube) so maybe I can forgive them for their lack of perspective.
48.
Scar
(2007) - Okay, I was on an Angela Bettis kick for a while because I love her. This movie wasn't really good... I'm positive I gave it a pretty low rating, but the biggest factor behind it being not good is the fact that it's so damn forgettale.
47.
Vampire in Brooklyn
(1995) - A mid-90s, pre-
Scream
Wes Craven flick that I haven't seen? It even stars Eddie Murphy. Sign me up!
46.
Night of the Lepus
(1972) - LOL, this has been on my watch list FOREVER, right up there next to Leprecaun which I'm positive will be showing up later on the list. I love how they disguised the source of terror, naming their movie with "Lepus" instead of "Rabbits" because Night of the Rabbits would've been even cornier and Lepus at least sounds somewhat foreboding. Nice try!
45.
The Offering
(2016) - I almost wanna say that I watched this one before. *checks IMDB* Yep, I did. With the generic-as-fuck title, it's hard to imagine anyone remembering much. I do think I remember that it starts out well enough, almost like a
Grudge 2
plot with our plain heroine traveling across the world to a different country to find out why her loved one died or something? Or am I thinking of another movie? Details are so fuzzy, but the movie looked nice but fell completely apart.
44.
The Darkness
(2016) - There was a lot of hate for this Kevin Bacon/Radha Mitchell flick a couple years back, and I don't know... I never really got on that train, though I didn't go around recommending it either. I don't think it was bad... there's just a lot of clichés and similar movies like it so it's easy to forget. Its mistake is probably having big-names attached and daring to show its face in theaters.
43.
I Still Know What You Did Last Summer
(1998) - It's no secret that I love this sequel to the 1997 original (as do many of us here), which is also great. But it does have a lot of hate... if we hadn't have gotten this film which brings back the two survivors of the previous film and continues their story, then we would've gotten an all-new cast sequel instead which would've been worse. And, lo and behold, we did get that kind of sequel down the line, with the supernatural twist...
I'll Always Know What You Did Last Summer
! That title was pretty appropriate, except the fact that it was a new cast so was there even a last summer to them? I can't remember. I'm positive that these people didn't catch that movie before putting the 1998 movie on their list, though.
42.
Valentine
(2001) - *groan* The creators of this list are killing me, and they clearly don't *get* what is so good about the post-
Scream
slashers. Beautiful slasher cast, a masked killer, great chase scenes, some yarns of suspense, and those inventive deaths. The ending is so dark and gloomy even by 90s standards, but you won't ever see it being given credit for that. By the numbers? Sure, but I can't imagine what anybody was expecting getting when they went to theaters to see this?
41.
House
(2008) - I haven't heard of this one. I know there's a cult 80s flick called
House
(with sequel humorously titled "The Second Story") that I have yet to track down... is this a remake of that?
40.
Smiley
(2012) - Oh, my, fucking, god... finally one that I absolutely loathed. My niece told me about this one, but she was like 13 at the time so maybe this movie was scary to her. I only ever watched it because it was free for the view on Amazon Prime but I didn't enjoy it whatsoever. I found the characters infuriating, so infuratingly so that I didn't even care about the last-minute twist that was the awful cherry on top of pile of dung.
39.
Shark Night 3D
(2011) - I found this a fair bit of stupid fun, of the forgettable variety anyway. No where near as entertaining fun as
Piranha 3D
. I'm thinking more like
Bait 3D
fun... the kind of shark flick you'd watch on ScyFy when it was on but forget most about a day or so later. Case in point? I just saw Chris Carmack the other night when I *finally* watched
The Butterfly Effect 3: Revelations
and it took me half the movie trying to figure out where I've seen him before. Shorter hair aside, it was *this* movie that he was in.
38.
Piranha Part Two: The Spawning
(1981) - I'm not sure how anybody who has ever seen the tongue-in-cheek original expected something better. Clearly those checking this one out would be the type who loved those obscure early 80s beach titles, like
Blood Beach
. I will say that it's not as humorous as is predecessor, though.
37.
Piranha 3DD
(2012) - No, this isn't
Piranha 3D
. This is the one with the two D's... the one with the movie poster with the girl with the big boobs. Fuck the piranhas really, BOOBS are the true stars here and the movie was pretty clear about that from the getgo. This does kind of have the same fun factor that the 2010 film had, but something is seriously wrong with a movie if David Hasselhoff (playing himself) is a highlight.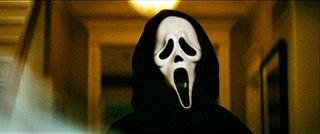 Oh, poor Sidney. You think this is all about you? You think you're still the star?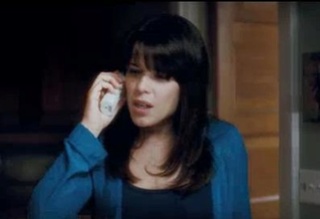 THIS ISN'T A FUCKING MOVIE!
The *true* stars.
36.
Howling II: Your Sister is A Werewolf
(1985) - I have yet to see a Howling film, though I've sat on the original for far too long. The problem isn't so much that the interest isn't there... it's the fact that I don't want to pay an arm and a leg for them. I'm holding out hope for a complete collection release somewhere down the line. Afterall,
Leprecaun
got one...
35.
Chain Letter
(2009) - Yeah, I can kind of get behind the disdain for this one. I'm just having a hard time conjuring up a reason why I didn't care much for it, but I will say that it's a very bad sign if my DVD skips and I am relieved because it gets me 5 minutes closer to the end.

34.
Empire of the Ants
(1977) - Giant ants? Joan Collins? There has to be at least a couple moments of hilarity wound up in this spectacle....
33.
Amityville 3-D
(1983) - I don't think I'll ever see it. I've only ever seen the original, but I'm noticing a trend of hate for 3-D movies. I bet they all looked glorious in theaters.
32.
Sarah Landon and the Paranormal Hour
(2007) - What is this, a movie or TV show? Bonus points for title creativity, at least. (Calling you out,
The Offering
...)
31.
Species II
(1998) - No, we're not going to chastise the entire franchise. Just
Species II
by itself. Really though, how the hell is this one any different from the others? They were all a-okay by me. I think most of the cast was even back for this one.
30.
Prom Night
(2008) - I've spoken my gripes of this one before, though it might've gone down with the rest of IMDb. I love Brittany Snow so I hate bashing on her flick because she's so clearly the star (and a cute one at that), but this one took an already abysmal (sorry Shred <3) 80s slasher and sucked any remaining fun out of it and crapped out this boring, derivative stalker flick. At least Brittany has Pitch Perfect to hang her hat on!
29.
The Wicker Man
(2006) - Nicolas Cage was such a go-to leading man in the 90s, but his career took such a nosedive around this time. I've never seen this movie and I already know that this is the one where he demonstrates some of the worst acting ever known to horror cinema. Which is saying something.
28.
Boogeyman
(2005) - Sista Garrett and I were just talking about this movie the other night! He loved this one a lot more than I did. I preferred
Boogeyman 2
, which was much more slasher-like when compared to the more supernatural original. But to each his own. Neither of us had a whole lot to say about the third one, though I would personally put it neck-and-neck with this one. This 2005 movie is by no means terrible though... just a lost 2000's soul mixed in a sea of torture movies. I should try to love it more, though. <3
27.
Cabin Fever
(2016) - I know for a fact that I talked about this movie on this forum (see the Originals vs. Remakes thread if you are interested), so no real need to retread. Placing it higher than 2008's
Prom Night
though? At this one kept to the story that made the original so popular! However unnecessary that was. Get with it, list makers. You're not impressing me in the least bit...
26.
The Disappointments Room
(2016) - So many recent titles on this list. Must have short-term memory or something. Still, this is an easy-to-hate title. So easy to hate that I don't. At all. Thank Mel Raido.

25.
Exorcist II: The Heretic
(1977) - One
Exorcist
movie was well enough for me, though I suspect that being scared would be the least of my worries when it comes to this sequel? Mark likes it though, so it can't be that bad, can it?
24.
Urban Legends: Final Cut
(2000) - Oh, look, another slasher filmed in the 90s is getting hate. Okay, maybe was 2000 but still, close enough. This one had so many stars... Jennifer Morrison, Jo
seph
Lawrence, Anson Mount, Eva Mendes... and let's not forget that Loretta Devine connects it to its original. Can't get behind the hate... that cinéma vérité death still gives me goosebumps. And those rats coming out of the corpse and Jacinda Barrett's death? uffda. List creators, watch a few of those Full Moon slashers like
Bleed
or
Scarred
(you know, something a bit outside the mainstream) and get back to me before slamming all the post-
Scream
slashers in your "worst of" list. Thanks.
23.
Book of Shadows: Blair Witch 2
(2000) - I hated this movie, save for that goth chick giving that store clerk sass when she was buying beer. I did love that part.
22.
Soul Survivors
(2001) - Still haven't caught this one, but given the hate the post-
Scream
movies are getting, the list makers including it on this list almost makes it look appealing now...
21.
One Missed Call
(2008) - This one did leave me feeling a bit cold. Boring, forgettable... need to see the original yet too but I've been knocking Asian horror titles off my list left and right.
20.
Leprechaun 2
(1994) - Well, here is our first
Leprecaun
film. But it isn't the "In the Hood" one, though? That one must surely make this list later on, no? I'm also waiting for
Troll 2
to crash this party. Oh sorry... no, I haven't seen this.... yet. XD
19.
A Sound of Thunder
(2005) - For a (relatively) recent release, I know literally nothing about this though it almost looks like more of a fantasy with horror elements? I could be so wrong... just going based on the one picture they're showing.
18.
Ghoulies
(1984) - LOL For stools that look like they've been sitting in toxic waste forever, they look almost cute. They are poop right; the cover had them coming out of the toilet but some movie covers lie. Another cheesefest I haven't seen yet.
17.
Bats
(1999) - Never heard of it, but my god do I ever hate bats.
16.
Creature
(2011) - This was indeed an awful movie, but I will give it credit for giving the brother a chance to be the hero for once. He was pretty badass too. Too bad the final girl was fairly useless and annoying.
15.
Texas Chainsaw Massacre: The Next Generation
(1994) - I saw this on HBO way back in the day (you know, when I was probably looking for some softcore porn because I was a horny teen and I don't even care if that's TMI) and I came across this instead. I didn't even know that it was a 'Texas Chainsaw' movie. I don't really hate it much now though... there's some pretty amusing parts.
14.
The Devil Inside
(2012) - Evil nuns can make for nightmares. This one somehow evaded my radar... until now. Mwahaha
13.
The Haunting of Molly Hartley
(2008) - Oh hell no, definitely not in the bottom group of horror movies! I never really got the hate. Haley Bennett always makes for a pretty good heroine who knows how to take care of herself and I can't say I really saw the ending (which was pretty downbeat IIRC) coming so I sort of liked it overall.
12.
The Apparition
(2012) - lol, yes, it's easy to scorn at the title, but looking at the success
The Witch
had, who knows. I do like Ashley Greene though, so maybe just maybe.
11.
Jaws 3-D
(1983) - I actually think this was my least favorite of the four films, which isn't at all the popular opinion, but the fourth movie at least had a vocal shark and frankly, I liked how a ordinary movie wife/mom Ellen Brody channeled the ever-fierce Ellen Ripley (as well as getting her groove back, like Stella - not my joke <3) as she did battle with the shark in the even-more-hated
Jaws: The Revenge
, which may or may not be coming up yet on this list. I don't remember this one having as amusing of a character arc... it's actually kind of blah.
10.
The Fog
(2005) - Aw, the remake. The problem with this one is that they centered the story around the Jaime Lee Curtis character from the original instead of the Adrienne Barbeau one, who was far more interesting. What a waste of Selma Blair!
9.
Feardotcom
(2002) - I remember Garrett hated this one, but I pressed on with some hope that it would at least be entertaining. But I was bored. To sleep. Literally. The end.
8.
BloodRayne
(2005) - I'm actually kind of surprised that a Uwe Boll title hasn't shown up yet on the list, though there's still seven entries to go so there's still time. This one almost seems a little more obscure than something more notoriously hated, like
Alone in the Dark
. I haven't seen it, though I probably would've by now if I had known about it.
7.
Jaws: The Revenge
(1987) - There it is! I already sort of talked about why I liked this one (despite its oh-so-many flaws), so let's move forward...
6.
The Human Centipede III (Final Sequence)
- It took me forever to watch the first one (thanks for the push, Neil <3), but I haven't felt much desire in continuing forward with the franchise. I don't think the second one has a lot of fans either.
5.
Jersey Shore Massacre
(2014) - This seems like a rather odd choice for such a high placement on a "worst" list. I may have heard of it before, but it just always sounded like just another trashy slasher that I'd watch when I was bored.
4.
Birdemic: Shock and Terror
(2010) - It's getting to the point where I'm really sort of chuckling at these random movies that I've never seen getting mentioned so high up on this list.
3.
Alone in the Dark
(2005) - Yup - knew it! I actualy think it starts out well enough, but it just becomes so confusing that you realize by the end credits that you just watched a trainwreck where there are no answers to any logical question a viewer may have about the plot. Meh... I just remembered now that I never did ever catch the sequel.
2.
House of the Dead
(2003) - Three Uwe Boll titles in the top ten. What a feat. They were saving him for the right time. I've avoided this one for the most part... it was free to watch on Amazon Prime a few months ago, too. Now I kinda wish for the sake of this list that I just sucked it up and watched it because I hate that there's been so many movies on this list I haven't seen.
My guess for #1?
Troll 2
.... it just has to be. I can't think of any other movie that I've heard so many bad things about and is just so notoriously bad. Am I right, am I right????
1.
Manos: The Hands of Fate
(1966) - W... T.... F?  
Honestly though, are we sure that the list makers just don't have a distaste for older horror movies to dig this turd up from god to knows where to make it the top pick? It's not like a whole lot of others (aside from stuff like the 80s Jaws movies) really made the cut. Still, props for surprising me though I was holding out hope that it was something I could've talked about. Oh well, time to check to see if it's public domain and free to watch on Amazon Prime. Or YouTube. Maybe it really is that bad, but I have a feeling I would've heard about it if it was a true contender for WORST ever.
Final thoughts? They clearly think any horror movie with killer animals are terrible, and they must think
Scream
is the best thing since sliced bread and anything that came after sucked. While I give them minor credit for shocking me with their top entry, a lot of their choices were pretty predictable. I would've loved to see some hate for some critical darlings mixed in for fun, but no such luck. Curiously,
Piranha 3D
never did make the list... things that make me go hmm.
Stay tuned in a few days when I go through their list of the best movies ever. I suspect I've seen a bit more of those ones and will have more to say about each entry, as a lot of the ones mentioned here were fairly forgettable.